At first glance, the Samsung Galaxy Watch Active 2 appears to be essentially unchanged from the initial Galaxy Watch Active. However, there are actually a handful of remarkable upgrades they implemented during this version. in this article, we are going to discuss most of the features of the Samsung Galaxy Watch Active 2 thoroughly and hope it'll facilitate you to pick out your Best Tracking Devices.

Full Specifications
Compatibility: Android 5.0 or higher, iPhone 5 and above, iOS 9.0 or above
MODEL: SM-R830NZDAXAR
Chipset: Dual-core Exynos 9110 at 1.15GHz
Storage: 4GB Internal Memory
RAM: 768MB RAM
Dimensions: Aluminum 44mm: 44 x 44 x 10.9T+30g, Aluminum 40mm: 40 x 40 x 10.9T+26g
Stainless steel 44mm: 44 x 44 x 10.9T, 44g, Stainless steel 40mm: 40 x 40 x 10.9T, 37g
Display : 44mm: 1.4-inch Super AMOLED,360 x 360 resolution, Corning Gorilla Glass DX+
40mm:1.2-inch Super AMOLED, 360 x 360 resolution, Corning Gorilla Glass DX+
Battery: 340mAh, 247mAh, WPC-based wireless charging
Connectivity : Bluetooth 5.0, Wi-Fi b/g/n, NFC, A-GPS/GLONASS
Durability : 5ATM + IP68 / MIL-STD-810G
Colors : Aluminum: Cloud Silver, Aqua Black, Pink Gold with Fluoroelastomer (FKM)
Sensor: Accelerometer, Gyro, Barometer, HRM, Ambient Light
Built-in:  Speaker
Size and Shape
The watch is now available in 40 and 44mm case sizes along with stainless steel or aluminum build materials. No doubt, the stainless steel model feels like the more premium device, but the aluminum model also looking so decent. Another mind-blowing feature is its round display (as opposed to Apple's rounded square) evokes a traditional timepiece. The overall effect is smart and graceful — with a leather band, you wouldn't be uncomfortable to wear the Galaxy Watch Active 2 to a wedding ceremony or a fancy banquet. And also the band is comfortable enough to wear to bed and doesn't irritate your skin or slide around while running.
This tracker is definitely beautiful, thin, and at the same time very modish. It comes with a user-friendly screen that is always easy to read. Runs well on all Android devices and has all the smartwatch and fitness features you'd expect. It's compact and lightweight but still offers great battery life.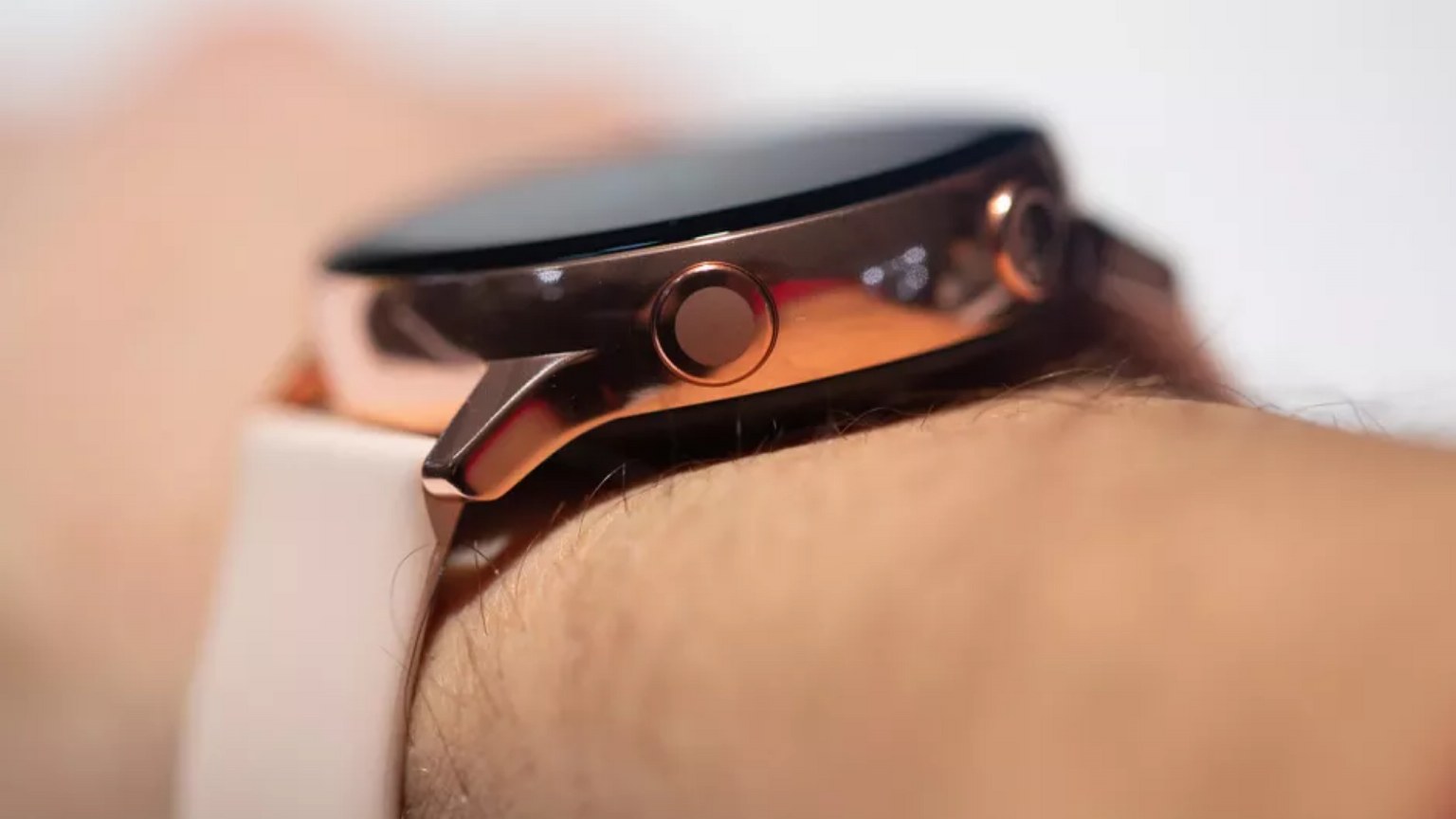 Physical Buttons
The Watch Active 2 still comes with two physical buttons and available on the right side of the watch case. The first one is the Home button and another one is the Back button. Double-tapping the home button calls up Bixby, and a long-press of the back button brings up Samsung Pay.
Samsung Galaxy Watch Active 2: Display
Samsung Galaxy Watch display size will depend on its case size. There are two screens available 1.4-inch screen available in 44mm size, while the 40mm watch comes with a smaller 1.2-inch screen. The resolution is the same on both models (360 x 360).
Speaking of bezels
Samsung produces the bezel around the Active 2's display touch-sensitive and it's allowing you to scroll around the user interface by sliding your finger around the edge of the display. The touch bezel lets you navigate between menus easily. It's pretty good and everyone will happy to use it more often than not.
Speaker & Microphone
Overall, the speaker and microphone quality is good. I've been using the Bluetooth-only model, so I wasn't able to test phone-free calling throughout the review period. Even so, my wife told me to call quality through the watch was so good that she couldn't tell the difference between the Watch Active 2 and my Pixel 3.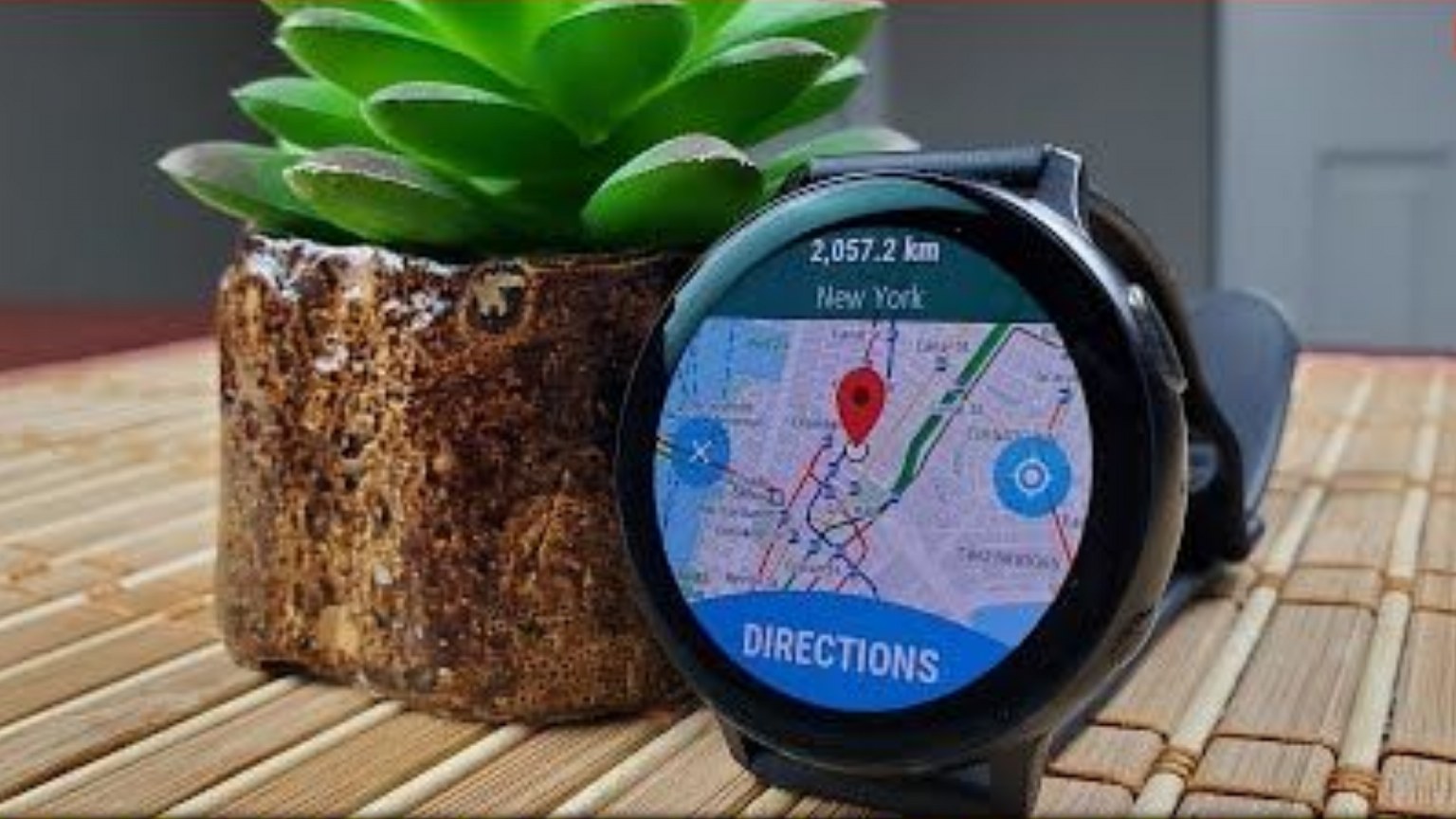 Samsung Galaxy Watch Active 2: GPS
This Samsung Galaxy watch also has built-in GPS therefore you won't need to take your phone with you while runs to track distance and route details. The built-in GPS does a great job of tracking runs for the casual runner, and it's all displayed and analyzed on the watch and in Samsung Health.
Battery
Battery durability will also depend on which model you choose. It'll last roughly 1.5 days on a single charge in a 40mm watch with a 247mAh battery. However, the 44mm watch with its 340mAh cell was running two days with heavy usage, which is pretty much what Samsung quotes for the watch.
Samsung Galaxy Watch Active 2: Charger
Samsung includes a WPC-based wireless charger in the box. It's a simple and small wireless charging which can easily charge and you can carry it with your backpacks or side packs.
The Samsung Health app
Samsung Health is one of the versatile fitness applications that help to make users' activity and health trends easily accessible. The Samsung Galaxy Watch Active 2 is still able to take blood pressure readings, but Samsung isn't essentially flaunting that feature this time around.
A total of seven activities can be tracked automatically, including running, walking, swimming (new), cycling, rowing, elliptical workouts, and a dynamic workout option. The watch can track over 39 other workouts as long as you start those activities manually. Overall, not much has changed on the fitness tracking front, though there is an improved Running Coach feature that monitors real-time pace metrics while you're out on a run. This just means the Watch Active 2 can tell you your steps per minute (SPM) and pace.
Stress tracking also makes its return, along with guided breathing exercises if you find yourself in a tense situation.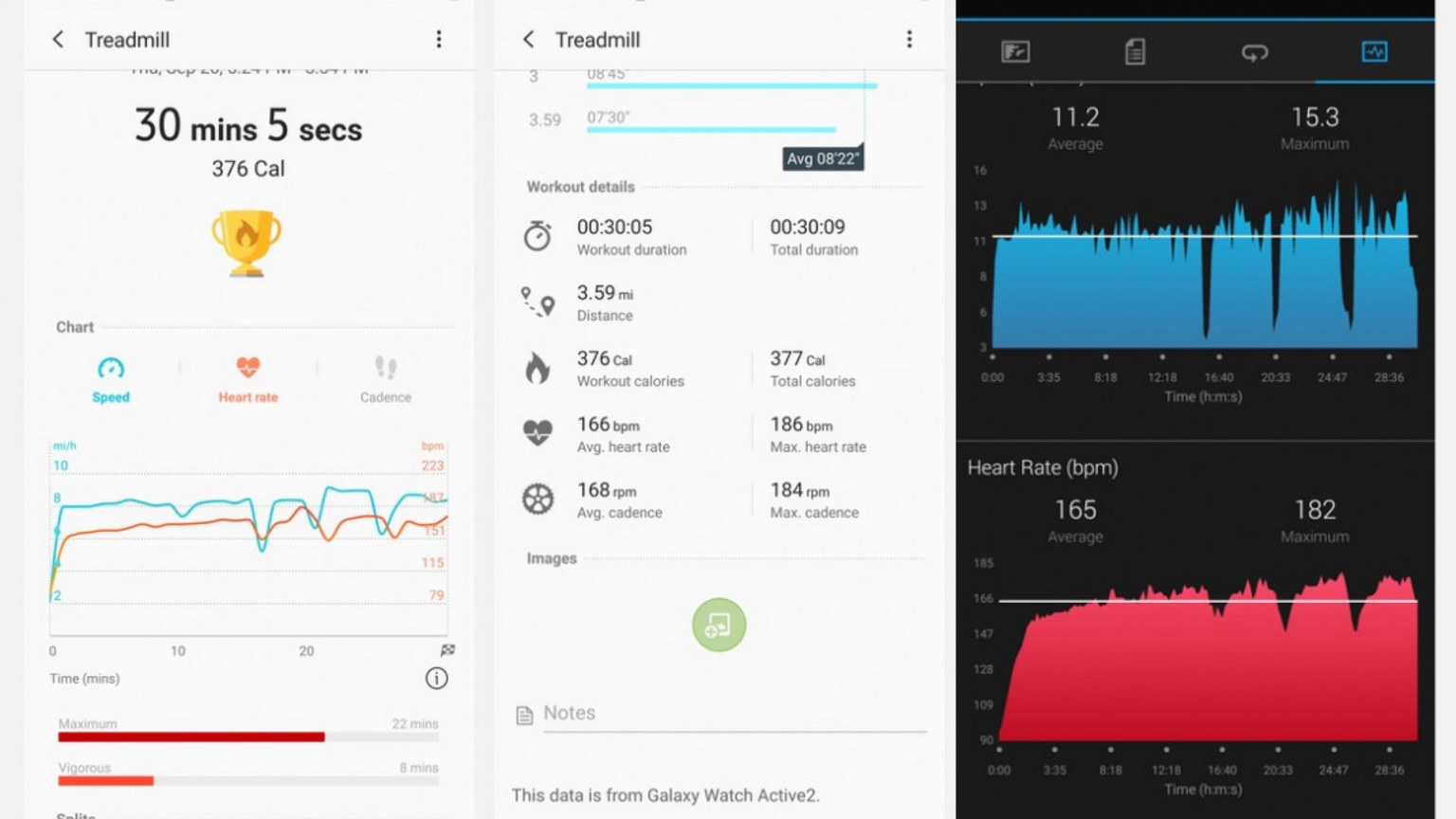 Sleep Tracking
Sleep tracking is one of the watch's high points. The Samsung Health app does a good job at laying out all of your sleep metrics in an easy-to-understand way. It'll show your total time asleep, sleep stages (awake, REM, light, and deep), efficiency percentage, calories burned, consistency targets, averages, trends over time, and more. It'll even recommend calming guided meditations if you need help falling asleep.
Samsung Galaxy Watch Active 2: Setup Process
When you boot up your Galaxy Watch Active 2 for the first time, it'll prompt you to download a total of four applications which required to working properly. Galaxy Wearable app, Galaxy Watch Active 2 Plugin, Samsung Accessory Service app, and finally Samsung Health that is the four applications. Seems, the setup process is time-consuming, but luckily you only need to do it once.
Storage
4GB of onboard storage was there in Watch Active 2, leaving just 2.5GB available for storage upon first boot. That's not a huge space but it's at least enough to store a hundred songs for offline playback. Samsung makes it relatively easy to load up music on the Galaxy Watch Active 2. Just attach your favorite pair of Bluetooth earbuds and you're all set for offline listening.
Samsung Galaxy Watch Active 2: New Features
Samsung Galaxy Watch Active 2 introduces some new features, it now supports real-time voice and 16 language translation services. Also, Samsung prepared a standalone YouTube player app for the watch, so that you can watch videos on your smartwatch.
Final Verdict
Overall, this is the smartwatch you'll really want to wear, its built-in sleep tracker offers valuable insights on how to get a relaxing night's sleep. It also observes your stress level. Finally, you will be amazed by its battery performance, its long-lasting battery can go for more than 5 days on a single charge. You can always get a quick boost from your compatible Galaxy phone with a wireless power share. That's it for our Samsung Galaxy Watch Active 2 review. All in all, it's a good all-around smartwatch.
FAQ
Q. Can Galaxy watch Active 2 play music?
A. Samsung makes it relatively easy to fill music on the Galaxy Watch Active 2, and there is also offline Spotify support via a standalone app. Just connect your favorite pair of Bluetooth earbuds and you're set for offline listening.
Q. What phones are compatible with Samsung Galaxy watch Active 2?
A. Galaxy Watch, Galaxy Watch Active, Galaxy Watch Active2: Phones with Android 5.0 and RAM 1.5 GB or higher are supported. Gear Live, Gear S2, Gear Fit2, Gear Fit2 Pro, Gear S3, Gear Sport: Phones with Android 4.4 and RAM 1.5 GB or higher are supported.
Q. What to try to do if you have got lost your Galaxy device?
A. If you lost your precious Galaxy phone, tablet, watch, or perhaps your earbuds, you don't have to worry. The Find My Mobile feature allows you to lock or unlock, locate, or if worst involves worst, completely wipe your data. Rest assured, even your Samsung Pay payment information is often locked or erased, and every one of these will be done remotely. There are similar services available for your watch and earbuds within the Galaxy Wearable app.
Q. Is It Safe to Format Factory Reset SAMSUNG Galaxy Watch Active 2?
A. Using one among the hard reset methods on SAMSUNG Galaxy Watch Active 2 is safe and will not affect the device in the other way than it's imagined to (clearing all data and reinstalling the default setting)
Q. How to Download SAMSUNG Galaxy Watch Active 2 Drivers?
A. If you'd prefer to download drivers for SAMSUNG Galaxy Watch Active 2 you must open the subsequent Drivers Database: www.hardreset.info/FRP-Drivers/
All you would like to try and do is locate the SAMSUNG drivers and download the installation package. If the drivers for your device aren't here don't hesitate to contact us.
Q. What is a Factory Reset Protection (FRP) on SAMSUNG Galaxy Watch Active 2?
A. Android Factory Reset Protection (FRP) could be a new feature in a number of the device with Android OS 5.1 or higher. FRP prevents from people using your SAMSUNG Galaxy Watch Active 2 and performing a factory reset without your permission. Factory reset in this case is simply possible with access to your Google Account and screen lock information.
Recommended Link:    12 Best Tracking Device or 2021  |  7 Best Personal Tracker