The GPS (Global Positioning System) is one kind of navigation and positioning tool that helps us to identify any specific object or individuals with the help of 30 plus satellites placed in a different portion of the world. There are three main components that interconnect with each other in GPS.  The GPS satellites, the GPS receivers, and the complex computer software needed to transform the indications and figure the geographical location of the user.
Initially, GPS was established by the Department of Defense in 1973 which actually designed to support soldiers and military vehicles, aircraft, and vessels in precisely identifying their locations world-wide. Today, GPS is everywhere and the practices of GPS have expanded to include both commercial and scientific use. You will get some details about it on our blog( History of GPS ).
What is Tracking?
Let's think about an e-commerce website, where they used some special script to identify their customer activities like where they stay and which products they are looking for. Based on that record they offer some promotional activities to their customer and ultimately it increases their sale. The technical term of that special script called tracker or tracking. Generally, the same concept has been applied for tracking any individuals or objects (e.g. car, animal, equipment, asset, etc.) with the help of some specified technology called GPS.
What is GPS Tracker?
A GPS tracker, known as a global positioning system tracker, uses indications from satellites that are actively working together and gain the required information about the position of a specified object and its location. Basically, it tracks three separate data sets: positioning, navigation, and timing.
What is GPS Tracking used for?
You're possibly familiar with some of the most common uses for GPS technology but there are others you may have never considered. GPS is an essential part of all sorts of operations and generally used for Search and Rescue, Vehicle Tracking, Asset Tracking, Delivery Tracking, and Recreational Use. You will find a detailed discussion on said points in different sections of our site.
GPS is an advanced technology made up of three parts: Satellites, Receivers, and Ground stations.
Satellites act like stars and located in global space which makes some signal connectivity with receivers and ground stations at any given time.
A Receiver that you can find in your phone or in your car or in your pet neck or in your asset which continuously listening for a signal from the satellites. The received indicates how far you are from the destination.
The Ground Stations use frequency to connect with satellites and provide us the actual location of any object which we think they are.
Finally, it knows exactly where you are once the receiver calculates its distance from four or more satellites. You are advised to go with high technology receivers so that you can easily figure out where you are within a few inches.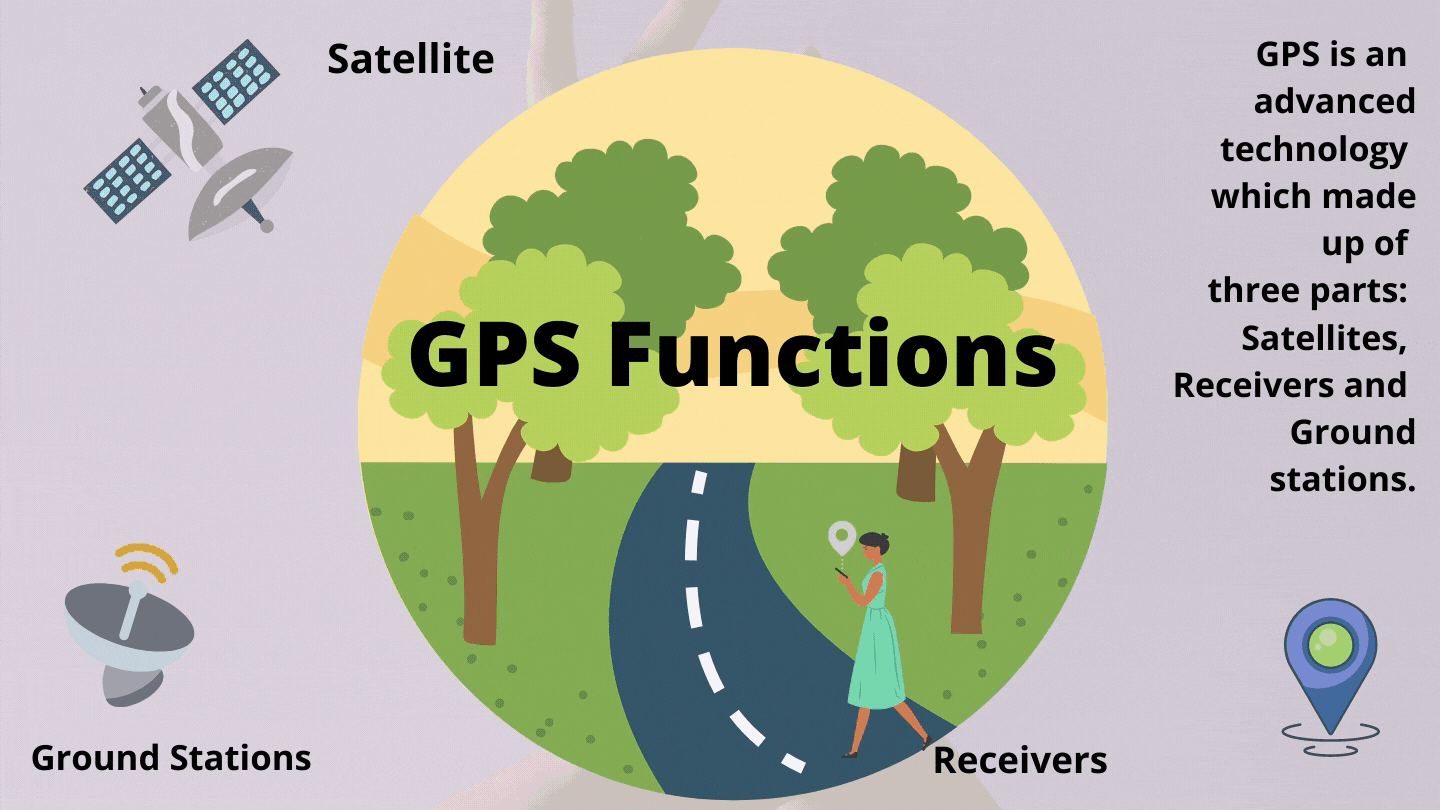 How GPS works?
GPS requires signals from different satellites positioned in different places on the Earth. These satellites continually transmission their locations and status to the Master Control Station, as well as other tracking and monitoring stations here on the ground, to ensure accuracy and proper function. It's mapping the locations from satellites in relation to the tracking device; it can triangulate its exact position in three-dimensional space (Please click here to read more about it from our Blog). The Master Control Station is also liable for maintenance, correction, and should anything go wrong.
Nowadays, GPS is connected with 30+ navigation satellites from the Earth. We recognize where they are because they frequently send out signals. A receiver from any phone or tablet listens to these signals. Once the receiver computes its distance from at least four or more GPS satellites, it can easily find out your locations.
Think about the ancient times when humans have looked to the skies to find their way. Also, ancient sailors used the night sky to figure out where they were and where they were going. Later another device invented to traces the location that is called Compass which is very helpful for any sailor.
Today, Technology makes our life very easy and all we need is a simple hand-held GPS receiver to figure out exactly where we located inside the world. But still, we used an object from the sky instead of stars and moon and that is called a satellite. These satellites can easily locate your positing or any object movements.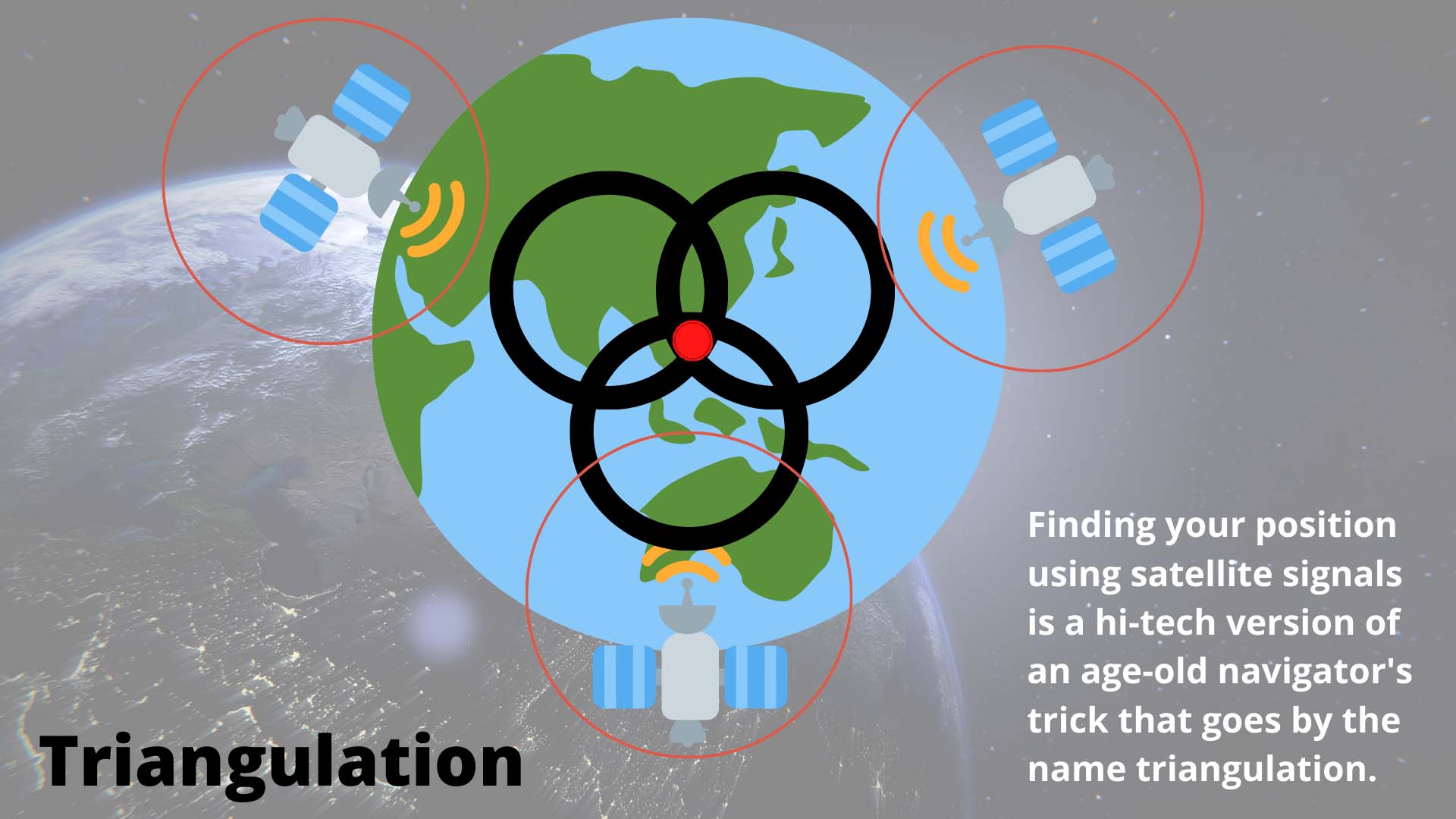 How GPS works in six steps:
1. GPS mechanisms sometimes called by "triangulation" or "trilateration".
2. It needs a minimum of three satellites message or at best four satellites.
3. To "triangulate", a GPS receiver calculates the distance between itself and each satellite because it follows some formula i.e. distance = period of arrival * speed of light.
4. To estimate travel time, GPS needs very perfect timing which it achieves from each satellite atomic clocks.
5. Along with distance the device needs to know exactly where the satellites are in space at any given time. This information is held inside the GPS receiver itself.
6. Finally, since it identifies exactly where the satellites are at that instant, by applying some very clever mathematics and it can figure out where it is on the ground.
Triangulation is the key factor for any GPS. It calculates the reference points and accurately measuring our distance from at least three satellites we can "triangulate" our location anywhere on earth.